Auction Real Estate Marketing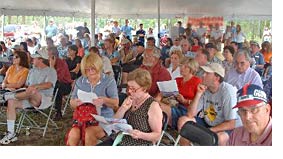 Auction Real Estate Marketing is an accelerated and intense marketing method that involves the public sale of property through open and competitive bidding. The auction method has proven to be very effective because it eliminates many of the problems encountered by traditional-method sellers.
First, you know when your property will sell. The terms of the sale are preset, and all potential buyers come to you at the same time. And finally, you know you are selling to financially qualified buyers with no contingencies.
It is estimated that approximately 95% of all real estate is sold in the traditional manner. Therefore, an auction makes your property special and different, and creates high demand for your property on auction day.
Dewey provides guidance for your auction from initial contact to the final closing. He prepares a detailed marketing plan, implements innovative promotions, targets prospective buyers, schedules and coordinates, prepares the site, coordinates the actual auction event, and helps close the transaction.
Dewey's marketing for auctions includes intense build up to the auction date in order to expose your property to a wide range of potential buyers. The marketing plan typically includes a large mailing to qualified buyers and investors, professionally designed and printed brochures, signage and advertising, and web-based marketing.